CHICAGO AUTO SHOW 2018
The Chicago Auto Show lands in our backyard for a few days every year, so we like to pop over and see what is happening with new cars. It helps us see how the factories are treating audio. Or, as is usually the case, not treating it.
HIGHLIGHTS
Some highlights that caught our eye this year were the Subaru's BRZ Ts Edition. The Ford Shelby Raptor with more than 500 horses and we checked out the Dodge booth. Here's a video walk through some of these highlights with some additional details below.
SUBARU BRZ Ts EDITION
This BRZ Ts edition is collaboration with Toyota who focused on styling while Subaru did the heavy lifting on the Boxster 4 cylinder power plant, transmission, chassis and suspension. The Ts edition has some nice aesthetic upgrades like the STI wheel package and carbon fiber spoiler.
It was a nice offering from Subaru but as performance focused tuners, we are still anxious for that nice STI foundation that we can prep for real upgrades, both performance and audio.
When you look at the aftermarket OEM audio systems offered by car manufacturers – and the prices they charge, it's easy to get excited about putting a Hifonics upgrade into all these cars. This BRZ Ts is perfectly suited for some Power The Gods sub bass with the Hifonics BXS Shallow Mount Subwoofers, the Brutus X. These subwoofers take up very little space due to their shallow mounting depth.
Since the Hifonics shallow Brutus subwoofers handle a ton of power, you can power them up with big power like the Brutus line of BXX amplifiers that feature Super D-Class® mono amplifiers and Super A/B Class® full range amplifiers.
FORD RAPTOR SHELBY BAJA EDITION
520 horsepower with the Ford ECO Boost turbocharged, direct-injection motor. Killer styling with some Rigid light bars hidden inside steel bumpers. This new Raptor Baja Edition package has all the options you can dream of except real audio – of course. You can kind of address the audio in internal and external.
The Internal system is what you will be listening to the most. With the sick blue over black color way we saw in Chicago, this truck demands the new GOLIATH (GA) Amplifiers
The amps are inspired by the STEALTH fighter and they are just as powerful. Up to 5000 watts, 1 ohm stable with Super D Class technology.
For the External audio in the rear of the truck is perfectly ready for some THOR IPX rated speakers like the 8 inch compression horns with plenty of volume to light up the camp site with tunes. The THOR compact amplifiers that can be hidden inside the truck to power them or tucked nicely into a secured bed toolbox.
DODGE CHARGER SRT8 HELL CAT
We also went through the Dodge booth to see what was the next evolution of some of our favorite cars like the Charger SRT8 Hell Cat.
But, even with all these performance versions and upgrades available for the Charger, the audio is only a Beats audio system. Really?? Glorified headphones?? Nope. No. Nada. That is not Power From The Gods.
Like the Raptor system, we see any of the Chargers and others in the SRT series properly trimmed out with Hifonics amplifiers, speakers and subwoofers. See what will be right for your ride at Hifonics.com
NEXT UP, 2019
Post your pics from the auto shows so we can share on our Facebook and Instagram feed. Comment on this BLOG FROM THE GODS below. We'll see you at Chicago Auto Show 2019.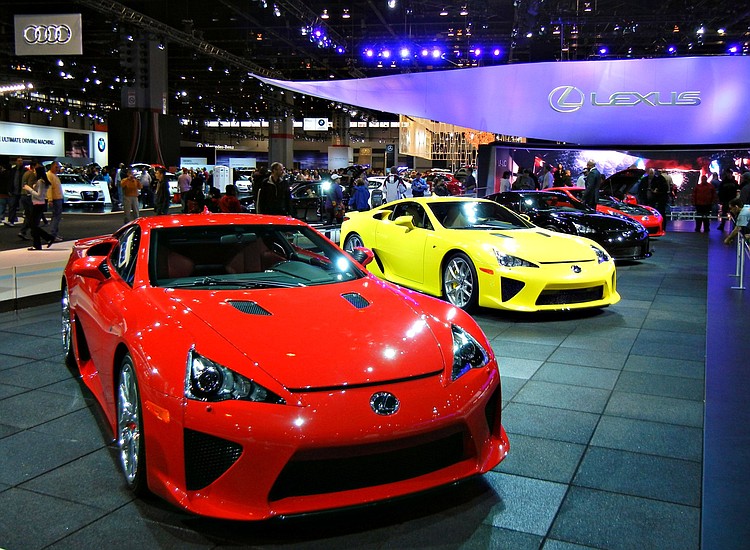 by: ROB FROM HIFONICS