This year at SEMA, Maxxsonics has taken what many believe is the best booth position available at the Las Vegas Convention Center. Outdoor space 60012 sitting just in front of the North Hall next to the legendary Foose Design Inc.
Hifonics will be previewing its 2018 line up this year at the show and will be conducting a variety of builder interviews. Hifonics and the other Maxxsonics brands will be on display in outdoor space 60012 starting Oct 31st and continuing through a post-SEMA celebration open to the public, on November 3rd ending at 11pm.
This year's MASTER BUILDERS are bringing some incredible rides to the show. Check out what we have in store for the 2017 Official Hifonics builds:
Make and Model: Ford F6 Year: 1954
Built by: Alan's Auto Body and Paint
Facebook: alansautobodyandpaint
Instagram: alansautobodyandpaint
\
Audio
Brutus Elite 35th Anniversary Amplifiers
– Super A/B Class™ full range and Super D-Class™
– Ultra-Fi™ MOSFET outputs
– Low noise Pre Amplifier
For a lot of our builds this year we partnered with our sister brand MB Quart to showcase the most powerful and efficient audio systems possible.
MB Quart 8-Inch Compression Horns
– UHS Technology creates sonic focal point
– Compression Horn Diaphragm maximizes SPL
– Wavelength Transparent Acoustic Lens allows even frequency distribution and improved Bass.
MB Quart GMR3 Source Unit
– AM/FM/Bluetooth™
– Enabled Gauge Mount Radio
– Bluetooth, RCA, USB inputs
– Apple® Control
– 180 Watt Built in 4-channel amplifier
Make and Model: Cadillac Coupe DeVille Year: 1962
Built by: Rynobuilt rod and custom
Facebook: Ryno Built
Instagram: rynobuilt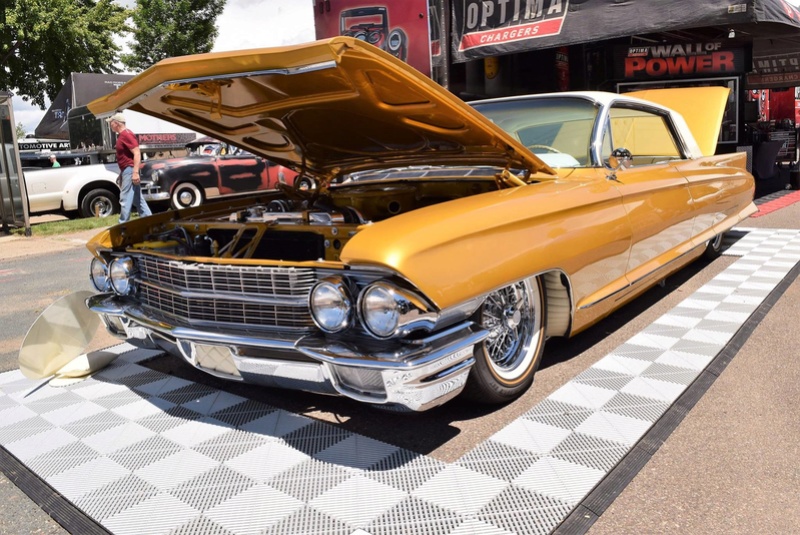 Brutus Elite 35th Anniversary Amplifiers
– Super A/B Class™ full range and Super D-Class™
– Ultra-Fi™ MOSFET outputs
– Low noise Pre Amplifier MB Quart Z line Component Speakers
– PA66 composite baskets with glass fiber reinforcement
– 35mm ceramic coated titanium dome tweeter
– Removable phase lens allows the tweeter to be tuned for the application
MB Quart GMR3 Source Unit
– AM/FM/Bluetooth enabled gauge mount radio
– Bluetooth, RCA, USB – Apple® Control
– 180 Watt Built in 4-channel amplifier
Hifonics THOR RZR
Model: Polaris RZR
Built By: Ian Collier
Audio
Amplifiers: THOR Compact Amplifiers (3)
– 500 watt mono on subwoofer
– 500 watt two channel on four 8-inch compression horns
– 500 watt two channel on front & rear doors
Speakers: – 8-inch compression horns (4)
– Polaris RZR front doors by MB Quart
– Polaris RZR rear doors by MB Quart
Source Unit: Hifonics MR1 AM/FM Bluetooth Source Unit
– AM/FM/Bluetooth enabled gauge mount radio
– Bluetooth, RCA, USB, Apple Control
– IPX67; marine grade
– 180 Watt Built in 4-channel amplifier
Hifonics Subwoofer: 10-inch subwoofer
– 800 watt power handling
– Vented aluminum former
– 2 ohm Voice Coil
– Hifonics custom enclosure
Make and Model: Harley Davidson Road Glide Year: 2009
Built by: Scott Owens Insane Asylum, LLC
Facebook: Insane Asylum Motorsports
Instagram: insane_asylum_motorsports
Audio
Hifonics Subwoofer: 10-inch subwoofer (2)
– 800 watt power handling
– Vented aluminum former
– 2 ohm Voice Coil
– Hifonics enclosure
MB Quart 6.5-Inch Compression Horns (8)
– UHS Technology creates sonic focal point
– Compression Horn Diaphragm maximizes SPL
– Wavelength Transparent Acoustic Lens allows even frequency distribution and improved bass
NA2 Compact Amplifiers
– (4) NA2-400.2
– (2) NA2-400.1
– Life Shield protected
– 2 ohm stable